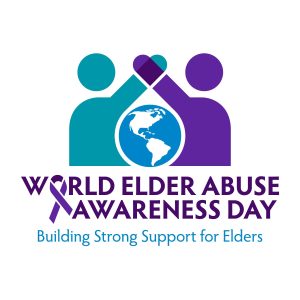 World Elder Abuse Awareness Day (WEAAD) was launched on June 15, 2006 by the International Network for the Prevention of Elder Abuse and the World Health Organization at the United Nations.
The purpose of WEAAD is to provide an opportunity for communities around the world to promote a better understanding of abuse and neglect of older persons by raising awareness of the cultural, social, economic and demographic processes affecting elder abuse and neglect.
In addition, WEAAD is in support of the United Nations International Plan of Action acknowledging the significance of elder abuse as a public health and human rights issue. WEAAD serves as a call-to-action for individuals, organizations, and communities to raise awareness about elder abuse, neglect, and exploitation.
SafeSeniors is helping recognize and create awareness about elder abuse by asking our partners and our community to wear a purple safety pin as a reminder that together, we can ensure safety and justice for older adults here in West Michigan. If you need pins for your organization or for yourself, family, and friends, click here for a request form.
For more awareness, please share a message on social media about why you are wearing the pin — tag us on Facebook @safeseniorsTC and use #SafeSeniorsWEAAD.
Remember to check in often with older family members and friends to make sure that no one is taking advantage of them.
If you suspect abuse, neglect, or financial exploitation, call 855-444-3911, 24 hours a day, 7 days a week.