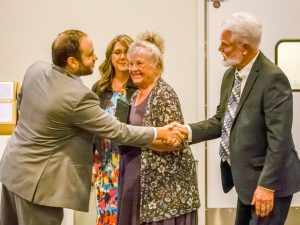 At AgeWell Services' Heels for Meals event on April 22, two residents of Cedar Creek Township were honored for helping our SafeSeniors Task Force take down some scammers. Here's the story…
One morning, Elaine Dulyea picked up the phone to hear something no grandparent wants to hear… "Grandma, I'm in trouble, I need help" and a sad tale involving a car accident and the need for bail money in cash right away. It didn't sound exactly like her grandson, but he said it was because he had a cold. "Grandma panic" set in as someone who identified themselves as a helpful lawyer gave instructions on how much cash was needed, telling her that he could send someone to pick it up rather than making them come to the courthouse.
As her husband Kenneth was heading to the bank to get the cash, he thought over the situation and realized it didn't ring entirely true, no matter how convincing the conversation had seemed. So, he called his grandson, who was fine. Kenneth's next stop was not the bank, but the police station. He was connected to our SafeSeniors Task Force, who asked if the Dulyeas would be willing to help with a sting operation designed to catch the scammers. Absolutely, they said! Elaine then "scammed the scammer" by keeping him on the phone and not letting on that she knew it was a scam attempt. When the criminals came to pick up the cash, instead of finding what they thought was easy money, they found our detectives and handcuffs waiting.
We already knew of three other victims that day, but when the story aired on the news, we heard from over 20 more people who had been called by this group of con artists.
We appreciate the Dulyeas willingness to not only helps us catch the bad guys, but to share their story in a news interview. Telling their story, especially how convincing the scammers can be, helps others who have experienced exploitation not feel alone. Sharing what happened to them can also help older adults learn the importance of reporting and seeking justice if they have been financially exploited.
Congratulations Kenneth and Elaine, and thanks again for helping our team on their important mission!