Senior Symposium 2022: Together Again, Moving Forward.
We had a great day on June 15 for our annual Senior Symposium!

Thank you to all of our attendees, speakers, expo exhibitors, and volunteers! 
To view and download copies of the presentations, please click the links below.
To view videos of the presentations, please click the links below.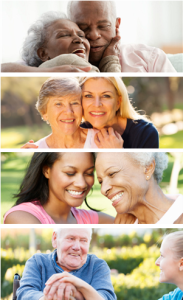 Senior Symposium 2020: Safe at Home
In 2020, because it wasn't safe to gather in large groups, we offered a virtual Senior Symposium experience. Video presentations are available for you to view using the links below.
Social Isolation
Handling Anxiety and Depression in Uncertain Times. Having to stay home to stay safe means we don't have our usual outlets to help meet our social and emotional needs, so we need to find new ways to keep our mood on an even keel.
Housing
Fair Housing in the Time of COVID. Seniors may face special challenges during the pandemic; learn from experts on how to handle housing issues.
Grief
What Grief Looks Like Now. Handling grief is different because of restrictions that are intended to keep us healthy. Learn how to cope when our traditional ways of dealing with grief aren't safe.
Imposter Scams
Not Everyone is a Friend. Feelings of loneliness and isolation make it easier for scammers to take advantage of us, most often through pretending to be someone they are not. Learn how to spot them and not let them con you.
The SafeSeniors collaborative is made up of community partners, working together to help keep older adults safe from abuse, neglect, and financial exploitation. Learn more about our partners by clicking here.